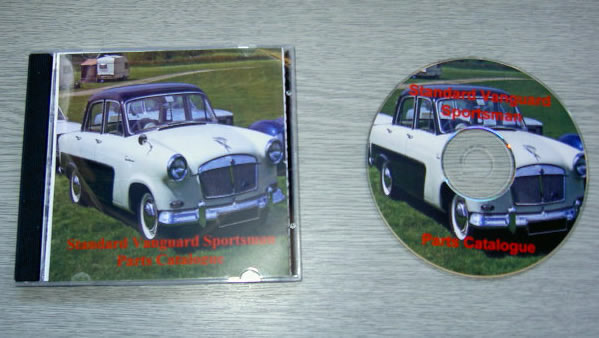 Standard Vanguard Sportsman Parts Catalogue
This CD contains scanned images of the Standard Vanguard Sportsman Parts Catalogue. The parts catalogue is part number 505329, Commision number T.D.D.I. onwards. (First Edition)
Many of the parts listed are also applicable to the Triumph TR2 and Triumph TR3. Other parts are applicable to the Vanguard Series 1, 2 & 3 as well as Standard "Small Car" 8 & 10hp.
In general this parts list would be useful to anybody working with vehicles in the Standard range as well as Triumph TR2 and TR3 sports cars.
The parts catalogue index identifies which parts are applicable to other Triumph and Standard models.
Whilst primarily a parts catalogue the exploded diagrams provided may well be useful in the repair & maintenace of your Standard Vanguard Sportman
The areas covered in this Parts Catalogue include-
Engine
Clutch
Gearbox
Overdrive
Engine Mounting
Chassis Frame - Front
Front Suspension
Rear Axle
Rear Suspension
Propellor Shaft
Road wheel
Steering
Change Speed Mechanism
Acceleration Control
Master Cylinder
Cultch & Brake Pedals
Hydraulic Pipes
Brakes
Exhaust Systems
Petrol System
Radiator
Miscellanous Chassis Details
Toolkit
Electrical Equipment
Body & Fittings
Miscellanous Body Fittings
Special Body Fititngs
Accessories
Also on the CD are various images and a welding manual.
Images are in Adobe Acrobat format and Adobe Acrobat is included on the disk (If not already on your computer)
---
| | |
| --- | --- |
| Format: | 1 x CD, 259MB |
| Compatibility: | All Adobe Acrobat compatible systems |
| Description: | Pdf & Images |
| Installation: | Level 1- Easy, (Click on link for further details) |
NOTE - Installation for operating systems other than listed above cannot be guaranteed.
---
Unfortunately we are presently unable to provide this product/service
---
If you have any questions do not hesitate to contact us:-