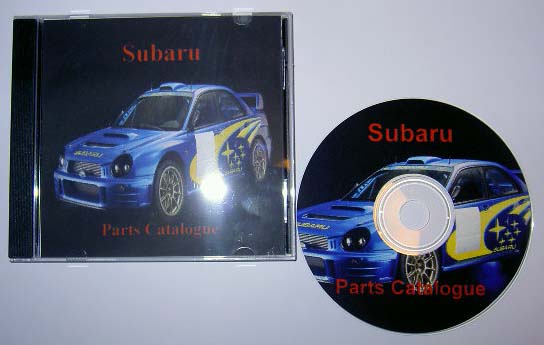 Subaru Parts Catalogue (EPC)
The Subaru Electronic Parts Catalogue (EPC) is used in the day to day maintenance and repair of Subaru vehicles.
This CD contains exploded diagrams of the cars with all parts identified with relevent part numbers. It is ideal not just for identifying parts but also shows how things go together! The CD covers the Subaru models listed below and is a must for any Subaru enthusiast.
This Subarus EPCcan be installed in English, French, German or Spanish and covers vehicles up to 2002, see below for precise details.
CD can be installed under Win 98, Win 2000, Win XP (32 bit) & Win 7 Home Premium (64 bit)
---
The following is covered in this Subaru Electronic Parts Catalogue:
Subaru Legacy, model B11 - 08/1993 to 11/1998
Subaru SVX, model C12 - 09/1993 on
Subaru E12, model D11 - 12/1992 to 11/1998
Subaru Impreza, model G10 - 05/1992 to 03/2002
Subaru Impreza, model G11 - 04/2000 on
Subaru Vivio, model R13, - 04/1993 to 05/2000
Subaru Forester, model S10 - 01/1997 to 05/2002
---
Unfortunately we are presently unable to provide this product/service
---
If you have any questions do not hesitate to contact us:-