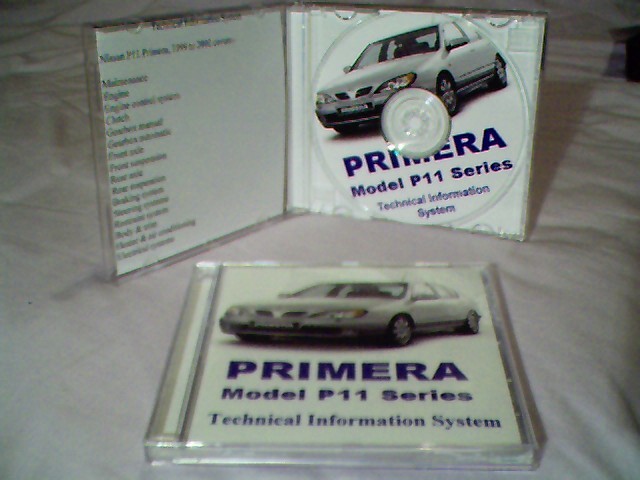 Nissan Primera P11- 144 Workshop Manual
(Also Nissan Infiniti G20)
Maintenance and repair manual (or Technical Information System - TIS) for the Nissan Primera Facelifted P11-144 series from 1999 to 2002. Includes the Nissan Primera P11 hatchback, Nissan Primera P11 saloon and Nissan Primera P11 station wagon (Estate car) Some information may also be applicable to the earlier Pre facelift Nissan P11 from 1996.
This Nissan was also know as the Infiniti G20 in the USA and this manual will be of use to any US Nissan Infiniti G20 owners.
Workshop manual is in Adobe pdf format and can be used on operating systems supporting Adobe Acrobat reader.
Manual can be used in German, English, Spanish & French.
---
The following is covered in this workshop manual:
Nissan Primera P11 4 door
Nissan Primera P11 5 door
Nissan Primera P11 Estate (Station Wagon)
Nissan Primera GA16DE engine (Also used in Primera P10)
Nissan Primera QG18De engine (Also used in Primera P12)
Nissan Primera SR20DE engine (Also used in Primera P10)
Nissan Primera CD20T engine
Nissan Workshop Manual includes sections on:-
Maintenance, Engine, Engine control system, Clutch, Gearbox manual, Gearbox automatic, Front axle, Front suspension, Rear axle, Rear suspension, Braking system, Steering system, Restraint system, Body & trim, Heater & air conditioning (AC), Electrical system.
---
Click on Images below for larger screenshot
---
Also available:-
---
| | |
| --- | --- |
| Format: | 1 x CD, 159MB |
| Compatibility: | All Adobe Acrobat compatible systems |
| Description: | Adobe pdf |
| Installation: | Level 1 - Easy (Click on link for further details) |
NOTE - Installation for operating systems other than listed above cannot be guaranteed.
---
Unfortunately we are presently unable to provide this product/service
---
If you have any questions do not hesitate to contact us: