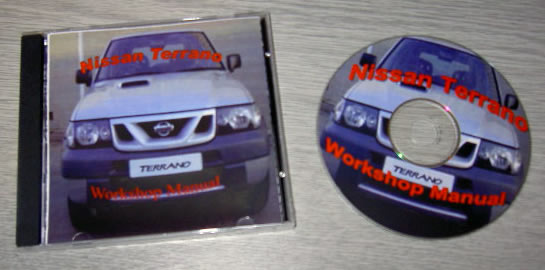 Nissan Terrano 4 x 4 R20 Workshop Manual
Maintenance and repair manual (or Technical Information System - TIS) for the Nissan Terrano R20 4 x 4 from 1993 onwards. The Terrano was also known is other markets as the Nissan Mistral, Nissan Pathfinder and re-badged as the Ford Maverick.
Workshop manual is February 2002 version but many aspects of it should be applicable for newer models. It is in Adobe pdf format (which is included on CD) and can be used on many operating systems supporting Adobe Acrobat reader.
Manual can be used in German, English, Spanish & French.
The following versions are covered in this workshop manual:
Nissan Terrano 2 and 4 wheel drive versions
Nissan Primera Short Wheelbase & Long wheelbase
Nissan Terrano Hard Top and Wagon versions
Terrano SE - Luxury & Elegance
Terrano SR - Sport
Terrano S - Comfort
The following mechanical units are covered which may be applicable to other Nissan models:
Nissan TD27Ti Diesel engine
Nissan ZD30ETi Diesel engine
Nissan FS5R30A Manual Transmission (Gearbox)
Nissan RE4R01A Automatic Transmission (Gearbox)
Nissan Workshop Manual includes sections on:-
Maintenance, Engine, Engine control system, Clutch, Gearbox manual, Gearbox automatic, Front axle, Front suspension, Rear axle, Rear suspension, Braking system, Steering system, Restraint system, Body & trim, Heater & air conditioning, Electrical system.
Also available:-
---
Click on Images below for larger screenshot
---
| | |
| --- | --- |
| Format: | 1 x CD, 59MB |
| Compatibility: | Win 95, 98, 2000, XP Pro, Win 7 Home Premium (64 bit) |
| Description: | Dedicated Program with Adobe pdf |
| Installation: | Level 2 - Easy (Click on link for further details) |
NOTE - Installation for operating systems other than listed above cannot be guaranteed.
---
Unfortunately we are presently unable to provide this product/service
---
If you have any questions do not hesitate to contact us: